About Us
For over twenty years, The Greene Company has been manufacturing fleece and knit apparel for the whole family - men, women, and children.
Clothing includes sweatshirts, sweatpants, fleece pullover and zipper hoods, athletic shorts, tee shirts, golf shirts, and more.
The Greene Company currently maintains four product lines that include both standard knit and fleece goods along with customized programs for customers.
The customization program is an extremely valuable option for customers looking to differentiate their fleece and knit apparel. The program offers basic colors plus colors outside the norm (e.g. apricot, lime, etc) along with variable components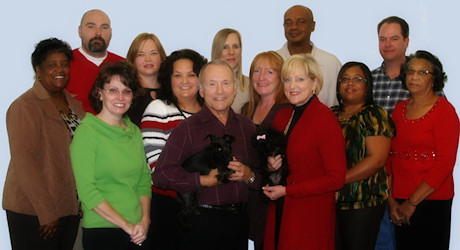 Back Row: Matt Sawyers, Cindy Adkins, Kari Reynolds, Quince Jones, Victor Ray
Middle Row: Geneva Jones, Beth Scott, Melissa Minnick, Keisha Watkins, Rachel Tanks
Front Row: Sandy Burnette, Barry Greene, Eydie Greene Front Front Row: Mascots Fonzie and Haley
such as different zippers and drawcords. In addition, different sizes, fabrics, and garment construction may be specified.
The Greene Company understands that customers often desire these unique features to set apart their apparel, which may include private labeling along with the distinctive colors and features.
Along with the manufacturing customization program, The Greene Company also meets additional special needs of its customers as necessary, including placing garments on hangers, attaching price tickets, and meeting specialized packing requirements.
For customers looking for In Stock merchandise, The Greene Company manufactures and warehouses their own product lines, including Kiddy Kats, Dodger, Garland, and B&E Sport, for readily available shipping on an as needed basis.
In addition to manufacturing apparel for the four product lines, the company also buys and resells closeouts from textile mills in the United States.
The company is headquartered in Martinsville, Virginia with over 250,000 square feet of warehousing and distribution space. Garments are currently sewn in Honduras, Pakistan, and China.
*All of
The Greene Company
products can be customized to your specifications with either our In Stock label or your Private Label, custom colors and/or custom specifications. Customization requires a minimum quantity of approximately 1000 dozen per style.